SOUVENIRS
2023 East West Shrine Game Apparel
All orders are processed after the store closes.
Orders will ship to the school/coach unless otherwise indicated.
Orders will not be accepted after the sale close deadline.
If an item you purchase becomes unavailable, you'll be notified, and your credit card will be refunded.
No exchanges or returns; please view size charts carefully before placing your order.
Please allow at least four weeks from the store close date to receive your product.
__________________________________________________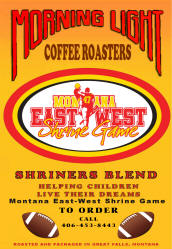 Morning Light Coffee Shriners Blend
$14.45/lb

Click to Order

Check out Morning Light Coffee Roasters and order your Shriners Blend coffee today!
You can also stop in the store in Great Falls to pick it up.
$1 from every bag sold comes back to the Game to be included in our donation to Shriner's Childrens in Spokane, WA.